Lip blushing
Lip blushing is a type of semipermanent cosmetic tattooing procedure achieved by depositing
pigments in your lips using small needles. Lip blushing focuses on altering both color and shape to create younger looking lips.

Lip blushing can help if you'd like to achieve more symmetry and tone.
Book in for a Consultation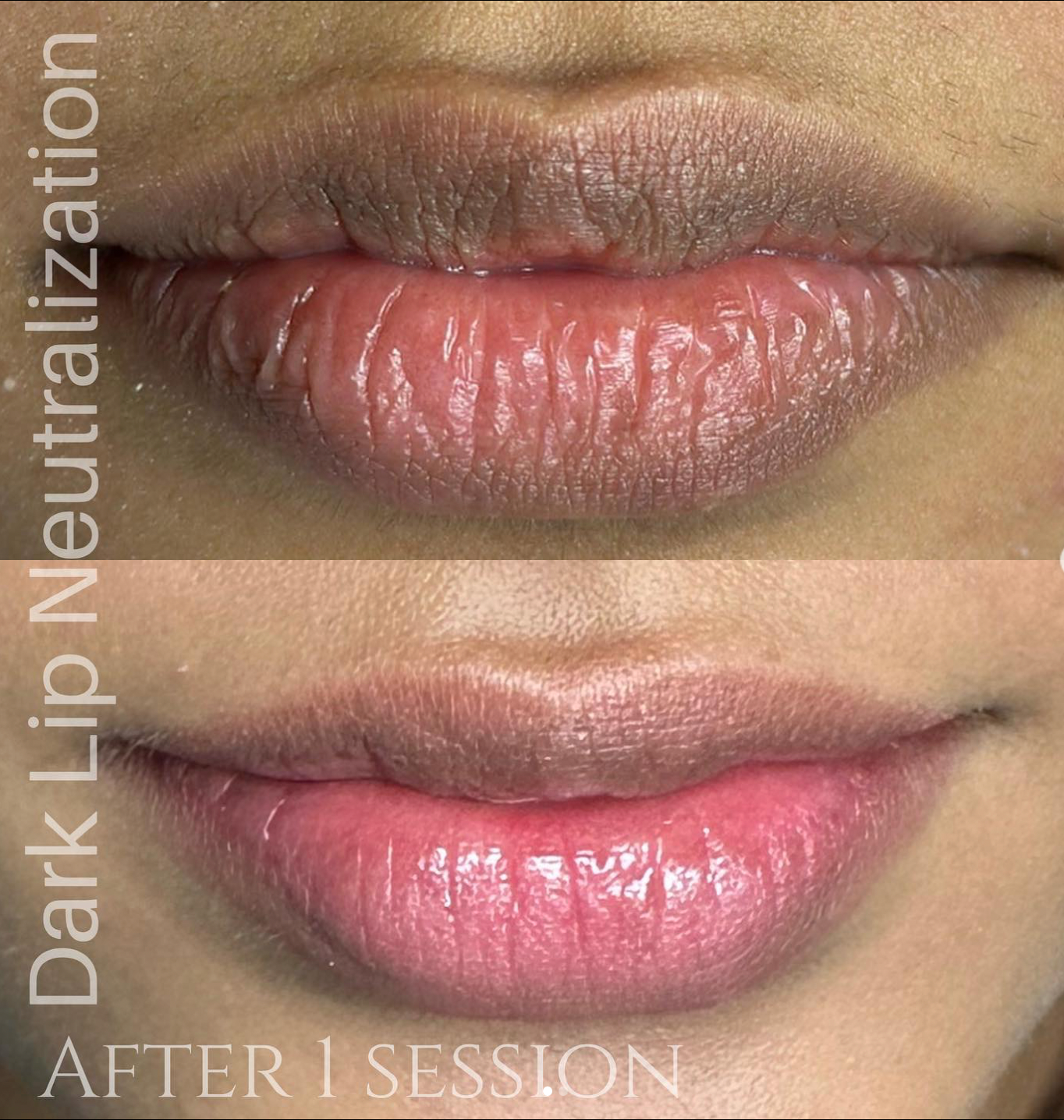 Dark Lip Neutralization
Dark Lip Neutralization is a specialized treatment series for those with cool or dark lips in
which we neutralize the darkness in the lips to reach a desired color. We look at your lips and neutralize them by cancelling out the original color. It may take multiple sessions to achieve your desired look, and there are special cases in which additional sessions are needed.

Each session is spread out at least 6 weeks apart.
book in for a consultation
The service can take appoximately from 2-3 hour (including numbing process, approximately
20 minutes). You will feel a slight buzzing on the lips where the needle is applying the
ink— the skin is slightly broken during the first pass of the needle.
If lip blushing is something you're considering, lets book for a consultation first to
weigh your options and learn more about the service. There are a few styles you can choose
from and once you've decided on the lip shade that will suit you best, you can move forward
with your treatment. It's always recommended to bring in inspiration photos.

Who Should Avoid Tattooing

If you have any other serious illnesses that impacts your immunity or your ability to
heal or immunity, generally tattooing is not recommended. Always consult your
doctor before undertaking lip blushing.

If you're pregnant or breastfeeding, cosmetic tattooing is not recommended.
Importance Information:

Having received a Lip Blushing service, you require patience and importantly need to
follow the best aftercare practices to achieve the best result. Lip Blushing can last 2-3
years between treatments and the aftercare protocols are similar to those of a
permanent tattoo. The initial healing stage lasts 3-5 days but your lip color will keep
changing in next 5-8 weeks.

The quality and consistency of your aftercare on your lips after a Lip Blush
application directly impacts how your lips will look at the end of the healing process.
To ensure you end up with the correctly shaded, smooth and healthy lips, learning
about the best hygiene practices and changes to your life style is essential.
Learning the best hygiene practices and necessary lifestyle modifications will ensure
you end up with a properly shaded, smooth and healthy pout. Here's everything to
expect during the lip blush tattoo healing process for the best, lasting results.
Precare

60 DAYS PRIOR: DO NOT get a chemical peel




28 DAYS PRIOR: DO NOT get any injectables around lip area.




7 DAYS PRIOR: DO NOT tan or get sunburnt.
DO NOT use any active skincare e.g: Retinols, AHAs or other anti-aging creams




48 HOURS PRIOR: DO NOT  take aspirin, ibuprofen, niacin, vitamin E, fish oil (Omega 3) or Coq10.
If you take prescription blood thinners, consult your doctor for advice.
DO NOT drink alcohol.

Postcare

For at least 2 weeks after your session: avoid spicy food, soups and hot beverages,
steer clear of direct sun exposure, chemical peels or laser treatments.

Use a straw to drink in 3 days
Try to avoid touching the lips by placing foods directly in your mouth with a fork. Do
not eat soy sauce, or fish sauce ( uncook sauce to avoid infection).
Avoiding any teeth whitening activities with strips or a dentist while your lips are
healing.
Try not to get toothpaste on the lips when brushing your teeth
It is also recommended avoid the following during the healing process:

o Wearing lipstick or lipgloss
o Lip exfoliators
o Kissing
o Skin friction

Avoid direct sun exposure during this time, too.
Avoid acidic, oily or salty foods and alcohol during the healing process.
Avoid activities that generate a lot of sweat for at least two weeks after lip blushing.
(e.g. intense exercise, hot yoga, swimming, saunas). Excess moisture and sweat
particles leave your skin susceptible to germs that could host a bacterial or fungal
infection.


Day 1:
Lips to be fairly swollen. (will calm down in 1-2 hours)
You might experience some tenderness and soreness in the area as the
numbing sensation starts to fade.
To create the Lip Blush design, your stylists creates tiny wounds that provoke your body's inflammatory response. As your session finishes, your lips will create Lymphatic Fluid as a natural inflammatory response. After lip procedure please use a clean water wipe to wash off this fluid from your lips.
Once the fluid has been clean, use a tiny moisturizing balm to keep the area clean and hydrated.
Do you suffer from cold sores? We strongly suggest that clients undergo a course of Valtrex antivirals to prevent a cold sore outbreak. 


Day 2: The swelling should have subsided. On Day2-3 the color of your lips should look darker than it was as you left the
salon.
During this time it is ESSENTIAL to cleanse and moisturize your lips after your meals.
Use water or a fragrence-free cleanser on a cotton pad to wash the lips.
Hydrate the lips with occlusive balm, ointment or gentle moisturizer.
To keep dryness at bay, hydrate your lips as often as needed.

Day 3-4: The Flaky Stage
Your lips will start to flake and peel. To recover from the micro-wounds, scabs will form on your lips.
NEVER PEEL OFF SCABS. You need to protect your investment and picking scabs can fade the lip blush's pigment or create patchiness. Also there
is a risk that you will open the wound making you susceptible to infection.
New layers of skin will come through as the dry flakes fall off. It is important at this point to be consistent with your washing and lip hygiene routine. Hydration of your lips at this stage is critical.
You need to be patient as it may take the ink up to four weeks to fully settle
into the skin.
At this point, the lip color should be 40%-60% lighter than when you left the
salon.

Week 1 to 8: Recovering
It is common for pigment to temporarily disappear before returning a few
weeks later. Essentially the skin is thickening as it heals and briefly conceals
the ink.

After 4-6 weeks, the skin would have repaired itself and the color would have
settled. The ink will then become visible again and your ideal lip shade will show through. Don't worry if your lips look darker than you anticipated; this is a normal side effect
that will wear off as your lips heal.



After-care Long-Term


Use a lip balm with SPF in it.


Be careful when exfoliating your skin on the face and lips. It is permitted to exfoliate, but be aware that regular exfoliation can cause your lip blushing tattoo to fade more quickly.




Longevity of your lip blush color will also be impacted by:
- Smoking
- If you have oil-prone skin
- If you have an iron deficiency
*Deposits & Cancellations*
Please note a deposit of $100 is required for all semi-permanent makeup appointments to secure your booking time. We require a minimum of 24 hours notice to reschedule, otherwise your deposit will be forfeited.  ​
Cancellation policy