Exceed Micro Needling
What does healthy skin look like to you?
Even texture, firmness, resilience, balanced hydration, & even skin tone.
​These are all signs of healthy skin which you CAN achieve with a series of microneedling treatments. 
​How does it work?
Using microneedles (minimal pain), we're able to penetrate into the deeper layers of the skin and create a small inflammatory response; which in turn helps to enhance and improve skin complexion, giving you a more youthful and radiant glow with a minimal downtime. 
​Who is it good for?
This treatment benefits a variety of skin concerns and is perfect for:
Thin and fragile skin
Fine lines and wrinkles
Redness 
Sun damage
Pigmentation
Acne Scarring
Rosacea 
Post inflammatory pigmentation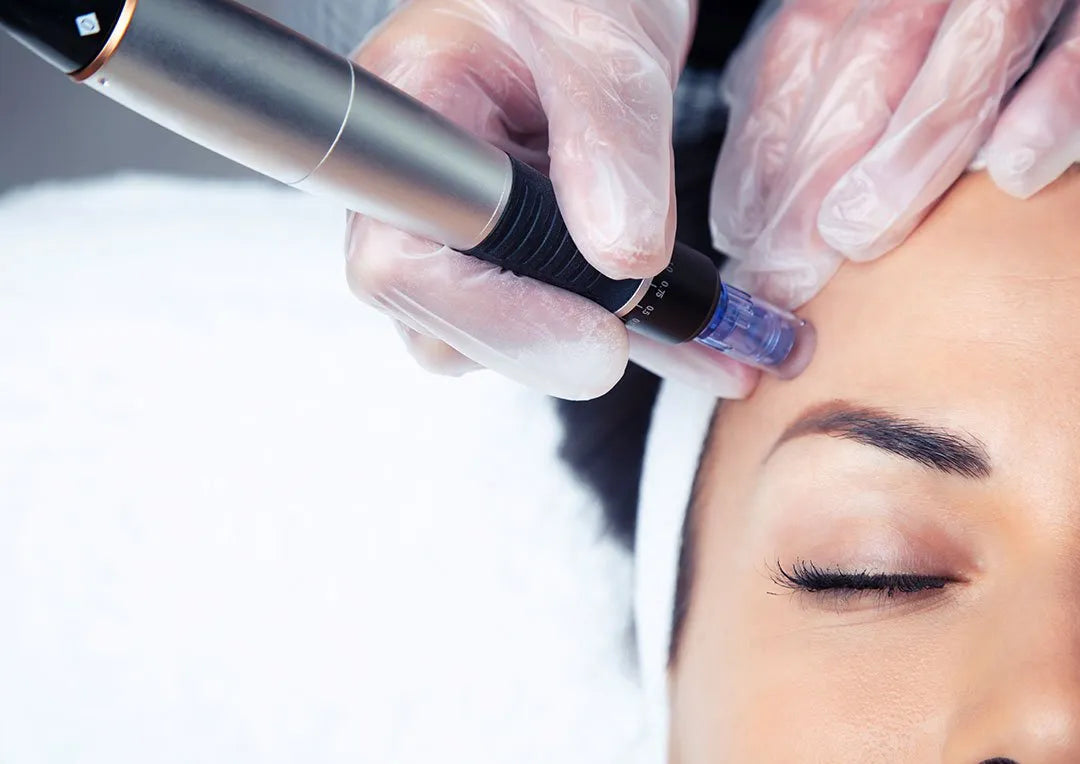 FACE $369 (single session)
60mins
Our ultimate rejuvenation treatment for signs of ageing, uneven skin tone, rosacea, scarring and more! Microneedling invokes the skin's natural wound healing response to promote a healthier tone, texture and function. The treatment also includes a soothing sheet mask to improve healing and reduce downtime. Available in single sessions or in a pack of 3 that include the downtime reducing LED for best results and big savings!
 We use the state of the art, German manufactured, medical grade EXCEED device with all industry approvals. It is FDA approved as a class 2 medical device, TGA approved & CE & ISO certified.  
Exceed is particularly good for thin and fragile skin, fine lines and wrinkles, redness and sun damage pigmentation. It also works to help treat hormonal pigmentation, rosacea and post inflammatory pigmentation caused by acne. 
​The procedure is designed to enhance and improve skin complexion via activation of the skin's natural regenerative processes which stimulates collagen synthesis. This treatment includes a sterile hyaluronic sheet mask, designed to helps accelerate the healing process.
Book for single session
Micro Needling Package $999
This package includes the following:
3 x Micro Needling treatments (valued at $1107)
1 X Post treatment kit (RRP at $100)
Book in for package
Pre Care

Avoid or Stop using Accutane six months prior to beginning your treatment sessions.
 
Do not use topical agents that may increase the sensitivity of your skin such as retinoids, exfoliants, topical antibiotics or acids 5-7 days prior to your treatment.
 
Do not take anti-inflammatory medications such as ibuprofen, Motrin, or Advil for at least 3 days prior to your microneedling session. These will interfere with the natural inflammatory process that is critical for your skin rejuvenation.
 
Avoid IPL/Laser procedures, unprotected sun exposure, or sunburn for at least 2 weeks prior to your procedure.
 
No waxing, depilatory creams, or electrolysis to the area being treated for 5-7 days prior.  
 
Do not shave the day of the procedure to avoid skin irritation. If there's dense hair present in the treatment area, shave the day before you arrive for your appointment.
 
If you're prone to cold sores, take an antiviral agent for 2 days prior to and the day of the treatment.
 
Avoid blood thinning agents for one week prior because bruising is a common side effect of microneedling.

Post Care

For the first 24 hours

Only apply recovery balm to your skin.
No hot showers, sauna, swimming or exercise.
Avoid direct sun exposure

24-48 hours

Can introduce SPF and a gentle cleanser back into your routine. Continue using recovery balm. No active skincare ingredients.
No hot showers, sauna, swimming or exercise
Avoid direct sun exposure


3-5 days

Continue with gentle cleanser, recovery balm & SPF.
Can shower as normal & go back to exercise routine.
Avoid direct sun exposure

After 5 days
Can re-introduce actives back into your routine. Antioxidants (Vitamin A, B, C & E) & SPF are essential to protect new collagen.
Book your post LED treatment.
When out in the sun make sure to reapply SPF every 2 hours and wear a hat & sunglasses.